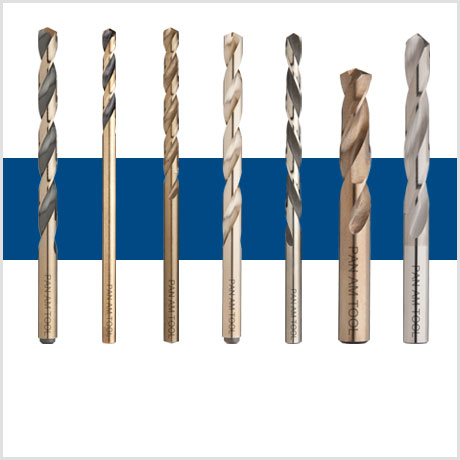 Cobalt & Carbide Drills, Taps
COBALT, CARBIDE DRILLS AND TAPS - For the toughest aerospace drilling jobs in hard aircraft metals such as steel, chrome, titanium, inconel and stainless steel, a cobalt jobber drill is the best tool an aircraft mechanic can use.
Pan American Tool's line of cobalt drill bits are made from heat-resistant, cobalt high-speed steel, with heavy-duty flute construction and a 135-degree split point. Our cobalt drill bits are made to standard NAS 907 Type J specifications. Cobalt heavy duty jobber length drills also available in complete sets, wire gauge number size cobalt drill sets, fractional size cobalt drill sets, and letter size cobalt drill sets, all conveniently stored in a sturdy metal carrying case. In-stock selection also includes Cobalt Stove Burner Drills, Cobalt Extension Drills, Cobalt Silver and Deming Drills, Cobalt Double Margin Drills and Solid Carbide Jobber Length Drills.